English at the bottom
Es el primer día de la Copa Mundial de Fútbol y estábamos iniciando un evento de Fedora en la Universidad Centromaericana. Así que rompimos los esquemas y pusimos el partido de Uruguay contra Francia desde el inicio. El partido inicio durante el almuerzo y nosotros nos apropiamos del salón más temprano. Así que solo invertimos 40 minutos de nuestro tiempo asignado para el lanzamiento.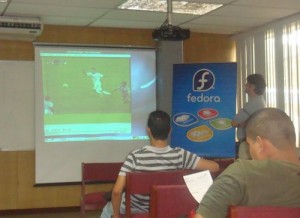 La mayor parte de la gente se interesó en el partido, algunos prefirieron quedarse al fondo del salón y platicar. Algunos preguntaron como estábamos proyectando el partido, lo que involucraba un dispositivo USB y VLC Player. Otro se quedaron alrededor de la maquina de demostración. Esta maquina además de tener Fedora 13 tenia instalado un software llamado TurboJet y cuatro unidades para quemar DVD. Espero pronto hacer un post con más detalles sobre esto. Algunos incluso preguntaron sobre la antena casera. A final fue muy informal para una que otra persona, pero creo que complacimos a la mayoría. También teníamos otra máquina para llevar las inscripciones con una aplicación Pizzabashlog que es GPL y creada en Nicaragua.
En cuanto terminó el juego iniciamos nuestra agenda. Primero hablamos sobre el Proyecto Fedora, luego sobre las cosas nuevas en Fedora 13 y finalmente sobre como mover repositorios en memorias USB.  Teníamos asignado un laboratorio para jugar con estos conceptos, pero debido a la lluvia nos quedamos en el salón.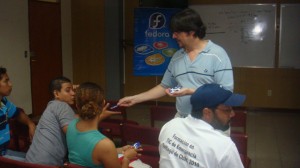 Nos reunimos unas 50 personas, distribuimos discos, calcomanías, y rifamos camisetas a aquellos que contestaron preguntas sobre Fedora. Varias personas aprovecharon nuestro amplio repertorio de imágenes iso de los distintos spin para copiar en sus memorias USB. Creo que tuvimos un buen día.
Tengo que agradecer por las fotografias a Agustin Chavarría, el resto de las fotos las pueden ver aquí
English
This was the first day of the Soccer World Cup, and we have a Fedora event at Universidad Centroamericana (Central American University). We decided to go out of ordinary and display the match Uruguay vs. France. The game started during lunch time, so we took over the room early. We just invested 40 minutes from our time given for the Launch party.
Most people got interested on the match, but some people preferred to stay at the end of the room and talk. Some of them asked how we were projecting the game, which involved a USB device an VLC Player. Others hanged around a demo computer that had Fedora 13 installed, and also it has installed an application called TurboJet and four DVD Burners. I hope to write one post with more info about this.  Some people even asked about the home made tv antenna. In the end it proven to be way too informal for a couple of people, but I think we pleased the majority. We also had a computer to run registration with an Nicaraguan GPL application called Pizzabashlog.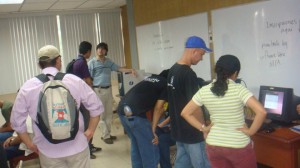 As soon as the game ended we started our agenda. First we talk about Fedora Project, then about what's new in Fedora 13 and finally how to move repos in a USB stick. We have a lab to play with repos and USB sticks, but we stayed at the room as it was raining.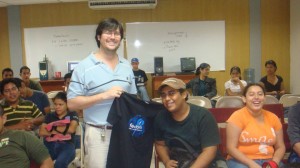 We gather about 50 persons, a distributed among them media and stickers. We also gave t-shirts to those who answered some trivia about Fedora. Several people took advantage of our stock of iso images for almost all Fedora spins to copy them into their USB sticks. I think that we had a good day.
I have to thanks for the pictures to Agustin Chavarria, and you can see more of his pictures here